What is Windhaven Veterans Program?
In November of 2021 Lifeline Connections took over operation of providing services to veterans that had previously been provided by Windhaven Therapeutic Riding, a 501c3 nonprofit organization, since 2017.
Windhaven Veterans Program provides support to veterans that are experiencing the debilitating and highly prevalent impact of PTSD through the use of the 8-week curriculum developed by The Man O' War research project called Equine Assisted Therapy for Post-Traumatic Stress Disorder (EAT-PTSD). EAT-PTSD is supported by counselors and equine specialists partnered with horses to help veterans heal from the effects of PTSD. PTSD results in functional impairment and creates barriers to living a life of wellbeing and satisfaction that every single one of our Veterans deserves.
EAT-PTSD provides an alternative therapy for those that have not benefited from or who may avoid other exposure based therapies that have high attrition rates due to having to tolerate elements of exposure. EAT-PTSD suggests that this alternative treatment for PTSD is effective, safe, well-tolerated, and reduces symptoms of PTSD and depression.
EAT-PTSD is an experiential group approach that is found to be, at least initially, less distressing. Traumas are not the focus of discussion, through the work with the horse, treatment team, and camaraderie of engaging with others an environment fostering healing is created. Due to their nature equines give immediate feedback to the veterans on how they are functioning and handling feelings. This feedback helps veterans learn how to pay better attention to the connection between mind and body and assists in learning a more productive ad healthier expression of emotions. The relational element of EAT-PTSD between horse, treatment team, and other veterans helps develop friendship, trust, and form deep connections that are lost in the symptoms of PTSD.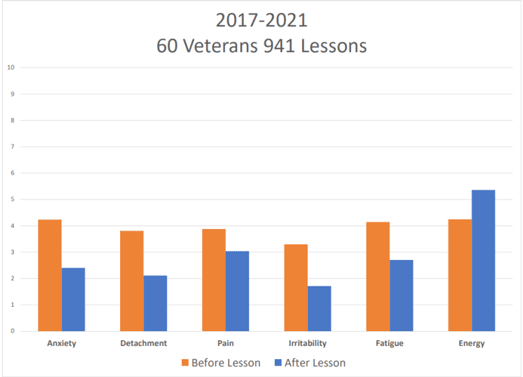 Lifeline Connections' provides these supportive services free of charge to veterans through scholarships funds. Lifeline Connections' has been unable to bill the Veterans Administration for these services do to community care authorizations being denied on the ground that the VA provides PTSD groups in house. Lifeline Connections' will continue to advocate for coverage of these alternative services.
Help Veterans find fulfillment in their lives and experience less of the debilitating impacts of Post-Traumatic Stress Disorder. Our services work, just look at the results. 60 veterans that have participated in services experienced a decrease in anxiety, detachment, pain, irritability, fatigue, and an increase in energy.
For individuals interested, please email us at Kseibert@lifelineconnections.org or call us at 360-605-6096.